Hi and Welcome to Children Love to Sing!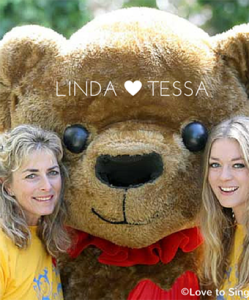 Our music learning products were first created in 1990; Linda Adamson a teacher was frustrated with the lack of quality music resources. Having a passion for music her aim was to create a product that would suit both teachers and children. "Singing is such a fun and easy way to learn – a song never leaves our long term memory."
Love to Sing Songbook sung by children was published by Scholastic and became a multi-platinum seller due to its popularity in preschools, schools and homes. After a few more publications with Scholastic, Linda decided to form her own publishing house in 1994. At the helm Linda is now joined by her dynamic daughter Tessa who has a degree in education and teaching.
Both of Linda's daughters Jamie and Tessa have been part of Love to Sing's recordings, shows and video songs – see if you can spot them in songs like We're Going on a Lion Hunt; Hello Song; Christmas is a Season of Love and many more.
It is our intention for you (the teacher and yes that includes parents as you are the most important educator!) to sing a song a day with children at preschool, school and in the home. Click into any of our songs and you can see how a song can lend itself to fun learning activities in all areas of the curriculum.
Love to Sing's philosophy is that "participation and enthusiasm are the keys to children learning – happy vibrations are created when we sing and connect together."
We have approximately 400 songs in our range and cover many genres so our songs suit both little and big people! Our songs and albums can be bought from all major digital outlets like ITunes, Google Play and Spotify; CD's, DVD's and teaching programmes including Hearty Fun – endorsed by the

; Up the Tempo a full year music programme and Hearty Jump a skipping programme are all available from our website.
Our songs are sung and loved by millions of children all over the world.  Our YouTube Channel childrenlovetosing is growing at a phenomenal rate subscribe to our free channel.
Checkout our free teaching tips, free music activities and keep up to date with our blogs, remember we love to hear your feedback and ideas – together we can make learning fun!
Here at Love to Sing we feel blessed to work in a business which is our hobby and passion and which helps to make the world a happier place!